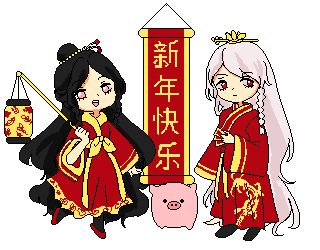 祝大家新年快乐!!
Hey everyone! Popped in to wish everyone who's celebrating it a Happy Chinese New Year!! Hope you guys got to eat a lot of yummy delights and spent it happily among family!
(I say this but I've been studying for like literally 20 hours straight now + I lived off of caffeine and microwaved leftovers lmao my CNY was a blast considering I have two midterms in a couple of hours. So doomed……)
Anyway, a quick update! For Heaven Official's Blessing, next chapter (part 1) should be out as soon as my midterms are done tomorrow (today?), so sometime within the next couple of days (hopefully tomorrow or the day after!). Same thing for chapter four of the ABO novel! For Villain's White Halo and Villain Astray and Promotion Princess, unfortunately, I'll have to take a short hiatus from them until February 15th (for my last midterm before my break), so heads up about that and thank you for the patience!
Once again, happy new year everyone! Let's welcome the year of the pig!!