← Previous | Index | Next →
---
45
F*ck…… wasn't this senior-apprentice brother Qilian, the one within the original Xu ZiYan's memories? Why was this guy here? Xu ZiYan clearly remembered that the person who had kept watch here in the original's timeline was a senior-apprentice brother with a low sense of existence. So, how did it suddenly change to Qilian HongYun???
While Xu ZiYan felt somewhat baffled over this sudden change, Xu ZiRong merely hooked up the corners of his lips. This familiar scent…… so it had been him, huh?
The moment Qilian HongYun saw these two brothers, his eyelids immediately jumped. As a result, his smile became even more benevolent. If someone unfamiliar with him saw his current appearance right now, they would absolutely think he was an affable and proper senior-apprentice brother.
Unfortunately……
The people he was facing right now were Xu ZiYan and Xu ZiRong, and neither of them were ordinary people. Although they each had different reasons, both brothers had raised their vigilance against Qilian HongYun.
"These two junior-apprentice brothers, congratulations for completing the first part of the exam," Qilian HongYun told them with a smile.
Xu ZiYan also smiled and gave Qilian HongYun a salute, however, the sirens in his heart had already begun ringing.
This senior-apprentice brother had a well-known reputation in the last generation of disciples. He had especially been known for his bellyful of evil tricks. In fact, it was said that there had been countless junior-apprentice brothers and sisters who had been conned by him. Although he never did anything too major, Xu ZiYan didn't want to be randomly pranked out of the blue.
"These two junior-apprentice brothers, you have already passed the first part of the exam. Please hand over your jade pendants to me."
Xu ZiYan and Xu ZiRong gave each other a glance before they took out all the pendants they had harvested.
Qilian HongYun took a look at those pendants that emitted a soft green glow and immediately felt his balls hurt. After all, one of those green pendants was his! And just because of that green pendant, he actually had to be on duty at the training hall for an entire year…… oh the heavens! Just kill him now!
Dumping him into that boring place and asking him to stay together with all those old geezers was the same as taking away his life!
When he thought of this, Qilian HongYun couldn't help but glare at Xu ZiRong as he gnashed his teeth. However, he didn't expect that before he even managed to use his expression to convey his anger, his line of vision was blocked by Xu ZiYan.
Xu ZiYan's expression wasn't that good as he stared at Qilian HongYun. What was wrong with this guy? Why was he glaring at his little brother? Didn't he know that it was easy for children to develop a psychological shadow?
Moreover, for a grown-up guy to frighten a child around ten years of age, did he want to lose the rest of his honour?
Xu ZiYan's current expression very clearly conveyed his disdain for Qilian HongYun. It immediately made Qilian HongYun choke on a mouthful of old blood, something he wanted to spit out but couldn't.
In all honesty, Qilian HongYun really wanted to ask Xu ZiYan something: your little brother is this fierce and cruel already, so how does it feel to have to one-up him as his older brother??!!
When Xu ZiRong saw Xu ZiYan blocking him from Qilian HongYun's sight, the corner of his mouth tilted upwards into a curve. This feeling, the feeling of being protected, really felt very nice.
Qilian HongYun dryly coughed twice before he tidied up his slightly distorted expression. Then, with a righteous appearance, he said, "Alright, I've already recorded your points. Your next task is to enter the Liu Guang Sect's main gates within three shichen1. As for the road you'll have to take… Well, even if I don't point it out, I'm sure you two can already see it. However, I do need to remind you that walking on this path…… won't be easy."
By the time he got to the end of his speech, the expression on Qilian HongYun's handsome face made it obvious that he was delighted over their misfortune.
Xu ZiYan felt completely speechless. He really couldn't remember when he had offended this senior-apprentice brother of his. So, what did this expression mean?
"Ah! Oh right, because you guys placed first and second in the first part of the exam, you must carry a special token on your body," Qilian HongYun finished talking with a smile on his face. Then, from his interspatial bag, he took out a few pieces of rope that were as thick as one's pinky.
Startled, Xu ZiYan stared blankly at Qilian HongYun. This was different from what had happened to the original Xu ZiYan. Then again, the original Xu ZiYan's results for the first part of the exam had been very normal. If this only happened to the first few candidates who had arrived here, it wasn't strange for him to experience a scene different from the original Xu ZiYan.
"In that case, many thanks to senior-apprentice brother," Xu ZiYan reached out to take those ropes. However, he didn't expect that Qilian HongYun would suddenly retrieve his hand.
Xu ZiYan frowned slightly. "Senior-apprentice brother, what is the meaning of this?"
Qilian HongYun's smile looked brilliant as he explained, "This isn't normal string, so you can't put it into your interspatial bag. It'll only be valid if you tie it on your body. Thus, do you intend to tie it on your arms or tie it on your legs?"
Xu ZiYan was puzzled by his words. It was only two pieces of string, so did it matter whether he tied it on his arms or tied it on his legs?
He reached out his hands and was just about to tell Qilian HongYun that it would be fine to tie it onto his arms. However, he didn't expect Xu ZiRong, who was standing behind him, to suddenly pull on his robe.
When Qilian HongYun saw Xu ZiYan reach out, the smile on his face became even happier. Just as he was about to tie the strings onto Xu ZiYan's arms, the younger boy suddenly pulled back.
Qilian HongYun: =.=
"Tie them onto our legs," Xu ZiRong took a step forward before telling Qilian HongYun that.
Although Xu ZiYan didn't know why Xu ZiRong was this adamant about tying the strings onto their legs, he believed his little brother had his reasons.
When he saw how Xu ZiRong insisted on tying the strings onto their legs, Qilian HongYun looked a bit disappointed. He was unwilling to give up on this matter and questioned them again. Upon seeing this, how could Xu ZiYan not understand? Thus, he quickly reiterated Xu ZiRong's words and said that they both wanted the strings to be tied on their legs.
Qilian HongYun pouted a bit before he flicked his fingers. Immediately, those four strings shot into the air and began coiling themselves tightly onto the legs of the Xu family brothers.
In the beginning, Xu ZiYan didn't feel much. However, as the strings made more laps around his legs, Xu ZiYan felt as if the weight on his limbs became heavier and heavier. And by the time the strings had completely wrapped themselves around his leg, at least fifty pounds had been added to each limb.
Xu ZiYan immediately turned his head to look at Xu ZiRong. Although a cultivator's constitution was much better than a regular human's, Xu ZiRong was only eleven years old. With so much weight added at once, Xu ZiYan didn't know if his brother's body could carry on.
Unexpectedly, Xu ZiRong didn't look as if his burden was too hard to bear. When he saw Xu ZiYan look over, he said, "Only twenty pounds."
Xu ZiYan immediately relaxed. An addition of twenty pounds may be hard for a normal child to bear, but it wasn't a big problem for Xu ZiRong.
Then, he gave Qilian HongYun a somewhat flabbergasted look. Was it possible that he had misjudged this senior-apprentice brother of his? Perhaps Qilian HongYun actually thought highly of ZiRong?
Qilian HongYun couldn't help but pout again. What was he looking at? It wasn't as if he liked Xu ZiRong. With how freaky the small guy was, Qilian HongYun was sure that even a hundred pounds wouldn't be too much for him.
"This senior-apprentice brother, we'll be taking our leave now," Xu ZiYan didn't know what Qilian HongYun was thinking, so his impression of him had become much better.
"Go ahead, go ahead," Qilian HongYun casually waved his hand. In all honesty, he had been hoping that they would decide to wrap the strings around their arms. If they had done that, there would be a fun scene worth watching later. Well, since they hadn't wrapped the strings around their arms…… that fun scene would only be a little less fun to watch.
After they said goodbye to Qilian HongYun, Xu ZiYan took the lead and stepped onto that narrow path first.
On one side of the path was the mountain. On the other side was a cliff. As far as a normal human was concerned, walking on a barren desert mountain range like this was a goal that would be hard to accomplish. However, as long as a cultivator was somewhat careful, it wouldn't be dangerous at all.
According to the original Xu ZiYan's memories, there wasn't anything special about this path. In fact, the original Xu ZiYan was still very puzzled over this. Liu Guang Sect was powerful and influential, so why was the second part of their exam so simple?
Thus, Xu ZiYan moved forward as if he was running as fast as the wind. At best, adding on a hundred pounds of weight would only make him a bit exhausted. It wouldn't hinder him too much. However, Xu ZiYan wasn't sure if he was imagining it, but was the mountain wind flying past him growing stronger and stronger after he began walking on this path?
"Big brother, walk slower," Xu ZiRong shouted behind him.
Xu ZiRong didn't have any memories about the Liu Guang Sect exam in his previous life, so he was much more careful and vigilant compared to Xu ZiYan.
Ever since they started walking on this mountain path, Xu ZiRong had already stretched out his senses to the limit. Thus, the mountain wind that had gradually became biting and cold didn't go unnoticed by him. This was also why Xu ZiRong couldn't help but open his mouth to remind Xu ZiYan.
Xu ZiYan suddenly came to a halt before he he shook his head fiercely. In his eyes, a trace of confusion flitted by. Just now, what happened? Although he had the original Xu ZiYan's memories, charging blindly forward like this without the slightest bit of hesitation really wasn't something he would do.
Xu ZiYan calmed down before he tried to carefully distinguish the noises surrounding him. The whistling wind scraped by his ears. Within it, however, he actually managed to hear some low and muffled murmurs.
Walk forward…… Walk forward……
Black pupils immediately becoming incomparably bright and clear. Xu ZiYan didn't move from his spot as he broke into a cold sweat.
He had unconsciously fallen into a trap?? Where exactly did these soft murmurs come from?
When the unknown source of those whispers was saw how the two brothers had stopped moving, the low mumbling mixed together with the roaring wind and began increasing their efforts in bewitching them.
A low level illusion like this couldn't affect Xu ZiRong at all. He could suppress the Blood Sea Heart Sutra's ruthless power, let alone this trick that couldn't even be considered a normal-ranked illusion.
In reality, if Xu ZiYan hadn't trusted the original Xu ZiYan's memories too much, he might have noticed something odd. However, who would have expected that he would fall into this trap just because he had too much faith in those memories?
Fortunately, Xu ZiRong had woken him up in time. Otherwise, he might have really ended up following those murmurs and walked straight off the cliff…..
"Ah, what a close call," Xu ZiYan's foot had already been toeing the edge of the mountain path unconsciously. As long as he walked forward a few more steps, he would end up walking off of the cliff without even knowing it. At a height like this, unless his innate talent could turn him into a bird and grow him wings, he would definitely end up becoming a pancake of meat pulp.
"Ha, ZiRong, luckily you're here. Thank you," Xu ZiYan wasn't stingy about praising Xu ZiRong.
Xu ZiRong bowed his head and smiled bashfully, looking completely like a pure and lovable child.
'I need to be more careful in the future. The original Xu ZiYan's memory can only be used as a reference. After all, a lot of things have already changed completely. I don't know how many waves my little butterfly has already created,' Xu ZiYan silently warned himself. What happened today was already the best lesson he could get. If he continued to blindly believe in the original Xu ZiYan's memory, he wouldn't even know how he died in the future.
The two brothers stuck to the side of the mountain and continued moving forward. A bone-chilling coldness was starting to mix together with the mountain wind. Even though they were wearing a lot of clothes, the two of them felt as if their hands and feet were going to freeze.
"Let's hurry up a bit, ah," Xu ZiYan helplessly told Xu ZiRong.
Xu ZiRong nodded. Although increasing their speed would increase the danger they were in as well, the strange mountain wind was getting obviously colder. If they continued to move so slowly, the two of them would become popsicles sooner rather than later.
The two brothers quickened their pace. This narrow path wasn't easy to walk on. There were many times where Xu ZiYan stepped on a part of the path that broke because of his weight. If he hadn't quickly grabbed onto one of the protruding rocks on the mountain wall, he was afraid that Xu ZiRong would have to collect his corpse.
"Do you think it got somewhat warmer?" Xu ZiYan asked in confusion.
Xu ZiRong narrowed his eyes. The temperature of their surroundings had indeed increased a bit. In fact, Xu ZiRong even picked up the subtle scent of sulfur. Was there a natural hot spring nearby?
The two of them walked forward a bit more. After taking another turn, the path suddenly opened up. In fact, on the narrow mountain path, a clearing actually appeared. But what would make people feel the most surprised was that on the flat ground, there really was a natural hot spring.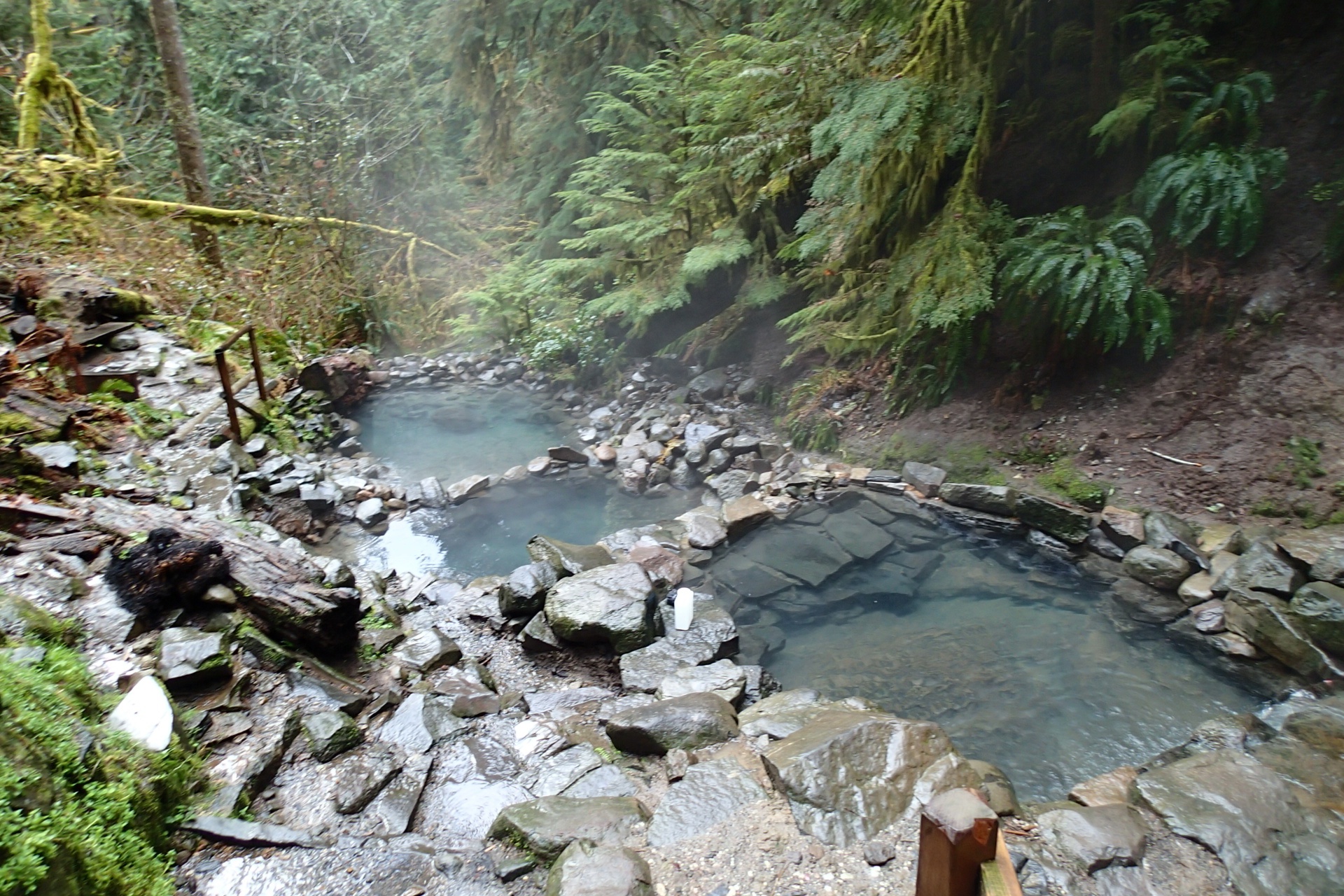 ---
← Previous | Index | Next →