Thanks to everyone for the coffees ;w;
Sorry, kind of short on time right now. I just finished midterms (I know, I just finished finals and then I got plunged into summer school and midterms…I hate myself, why did I think this was a good idea again?) and I have an anime con to go to in the morning, so I really should have been asleep like…3 hours ago LMAO. I'm going to be so dead when I wake up in a couple of hours.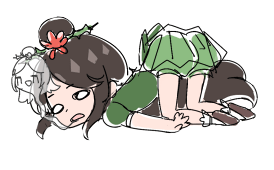 Here is chapter 22! Small changes to note – instead of the Kindred Moon Grass, we renamed it to the Kindred Moon Herb (which makes more sense since grass usually don't grow leaves lol). Other than that, I don't think there's anything else term-wise we've changed.
Like always, if you wish to support us please
and/or turn off adblockers when viewing this site~~
Enjoy the chapter guys! <3
(Also, for Canadians and visitors, I'll be at Anime North in the morning (Sat)! Please come and say hi if you see me, I'll be dressed as Mo Dao Zu Shi's Jiang YanLi!)