Terribly sorry but I only have the Marriage chapter for everyone today QAQ. Going through the most terrible time of the month experience I've ever had (seriously, I couldn't even stand up on the first day rip) + my research supervisor suddenly contacted me out of the blue so I've been scrambling to self-teach the material she wants me to know before our meeting this Friday ORZ.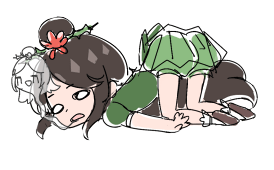 Anyway, many thanks to Somebody for the all the coffee! Also, thank you to all those who commented last week!! You guys are really the best!
Without further ado, here's the chapter!!
Everyday, the Demon Lord is Escaping His Marriage Chapter 16
And like always, if you wish to support us please
support me on ko-fi and/or turn off adblockers when viewing this site~~
One last thing, my giveaway for free MXTX merch will be ending soon! If anyone is interested, details can be found here!
See you guys next time~!